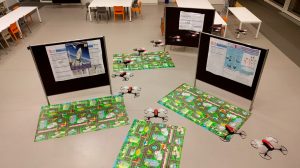 This work (presented at ICRA 2017) demonstrates the use of a single forward facing camera for obstacle avoidance on a quadrotor. We train a CNN for estimating depth from a single image. The depth map is then fed to a behaviour arbitration based control algorithm that steers the quadrotor away from obstacles. We conduct experiments with simulated and real drones in a variety of environments.
[Paper] [Video] [Single Image Depth Estimation Code] [Behaviour Arbitration Autopilot Code]
ESAT dataset (single images and depth-maps for university environment) available on demand from punarjay at gmail dot com).